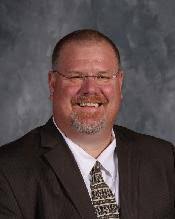 Matt Rogers - Superintendent
Matt Rogers grew up in Prairie Village, Kansas. He attended Kansas
Newman College and received his degree in Secondary Education with an
emphasis in Science. Matt played college baseball at Kansas Newman.
He has worked at USD 380 since 2018.  Matt is the Superintendent.  He
is married to Cary and has 3 kids; Breanne, Amanda, and Brett. His
hobbies include camping, hunting and fishing, cooking, and spending
time with his family outdoors. You can reach Mr. Rogers at rogersm@usd380.com, or call his office at 785-382-6216.